Get Tickets
Buy tickets or get referral tickets below.
Free Referral Tickets
Get a FREE ticket for the hunt of your choice by:
• Joining Epic Outdoors
OR
• Referring a new member to Epic Outdoors
Entry Deadline: Feb 29, 2024
 Ticket Options:
1 ticket for $25
5 tickets for $100 (save $25)
10 tickets for $200 (save $50 plus get a FREE KNIFE OR HEADLAMP)
30 tickets for $500 (save $250 plus get a FREE KNIFE OR HEADLAMP and a FREE entry into the BONUS HUNT PACKAGE drawing)
(Knife and Headlamps are custom made for Epic Outdoors by Outdoor Edge and Cyclops.)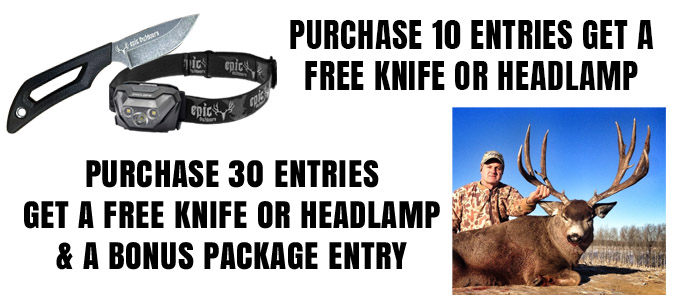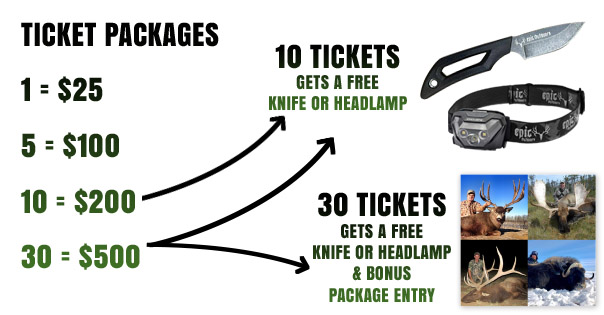 Purchase 30 tickets and get the free knife or headlamp and one entry for the Winner's Choice Bonus Hunt, valued at over $10,000. You will receive 1 ticket for each $500 you spend. There is no way to buy individual tickets for this package.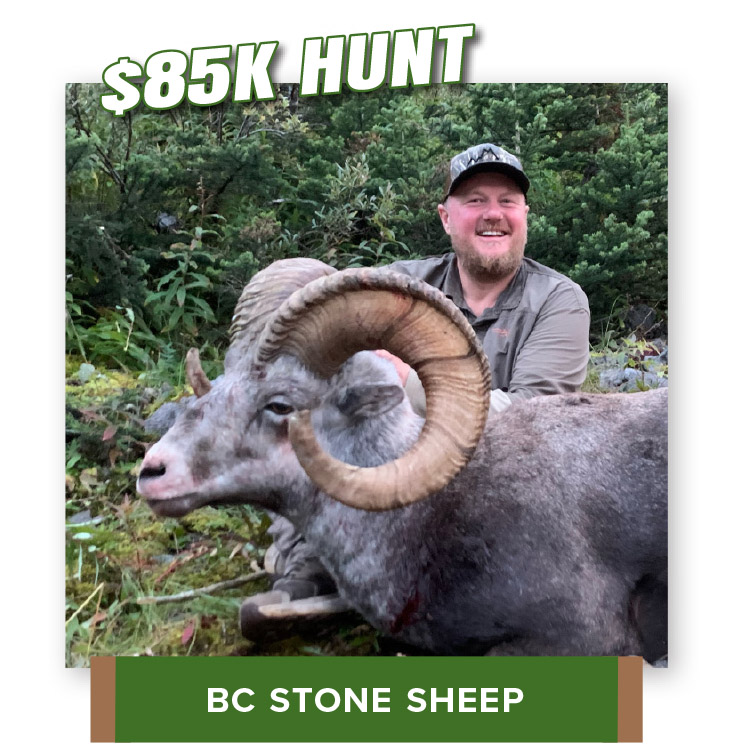 2025 British Columbia Stone Sheep Hunt
Win this 12 day British Columbia Stone sheep hunt with Stone/Folding Mountain Outfitters August 12-24, 2025.
Stone Sheep are one of the pinnacle species to hunt in the world, and this hunt is with one of the best outfitters and best areas in northern British Columbia. Outfitter Blair Miller, operator of Stone/Folding Mountain Outfitters areas, boast some of the highest Stone sheep numbers and available tags of any outfitter in B.C. We've had many members hunt with Blair, with incredible success! This hunt is for August 2025 so there is plenty of time to prepare for this amazing opportunity!
2024 UT/NV Elk Hunt
Win this 5 day Utah Elk hunt with Pilot Peak Ranches during the rifle season, Sept 21-26, 2024.
This is one of the best elk hunts in Utah! The landowner tag and guide fee are all included with Pilot Peak Ranches! You will be hunting big bulls, with a rifle, in the middle of September! This elk hunt comes with a unique opportunity to hunt both Utah and Nevada at the same time! Located in northwest Utah, the Pilot Mountain range is split by the Nevada and Utah state line. The hunt is fully guided, comes with a unit-wide tag that is valid for both private and public land. The outfitter has sole access to the best private ground on both sides of the mountain range, in both states. The winner will be 1 of 2 total hunters on this incredible rifle hunt for giant bulls, this year!
2024 Nevada, Unit 076-081 Elk Hunt
Win this 6 day Nevada Elk hunt with Deadline Outfitters, Winner gets their choice of hunting the Archery, Muzzleloader, or Rifle season in 2024.
This hunt includes a landowner tag that is good for the entire unit group, guide service, food and lodging. This hunt is for the season/weapon of your choice in units 076-081, in the northeastern part of the state. These units border the incredible unit 54 of Idaho. Hoby's clients have harvested some of the best bulls that have been taken on both sides of the Nevada and Idaho state line. The bull pictured was taken by a past Epic Outdoors hunt winner. We have worked with Hoby for many years and know he is committed to making sure his clients have the best hunt possible.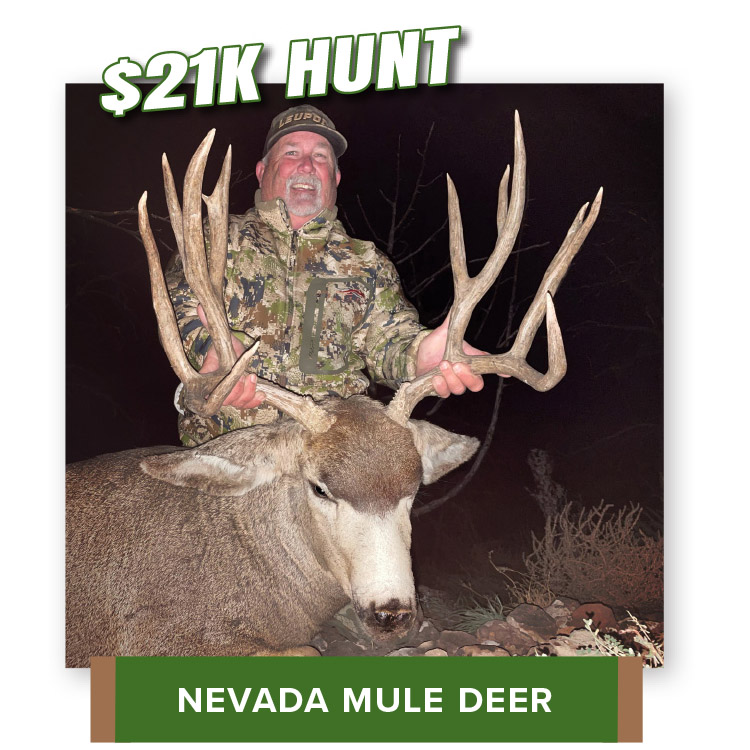 2024 Nevada Unit 231 Mule Deer Hunt
Win this 7 day Nevada Mule Deer hunt with Mogollon Rim Outfitters. Winner gets guide service on their choice of season – archery, muzzleloader, or rifle in 2024.
This hunt includes a unit 231 landowner tag, as well as 7 day guide service with food and lodging. The landowner tag is valid for the entire unit, for every season on the unit, until a deer is harvested. In theory, you could hunt every day from August 10th through October 31st. You will hunt with the outfitter for 7 days, during the season of your choice. Greg Krogh of Mogollon Rim Outfitters is one of the top outfitters in Nevada. His clients have consistently harvested giant Mule deer, year after year.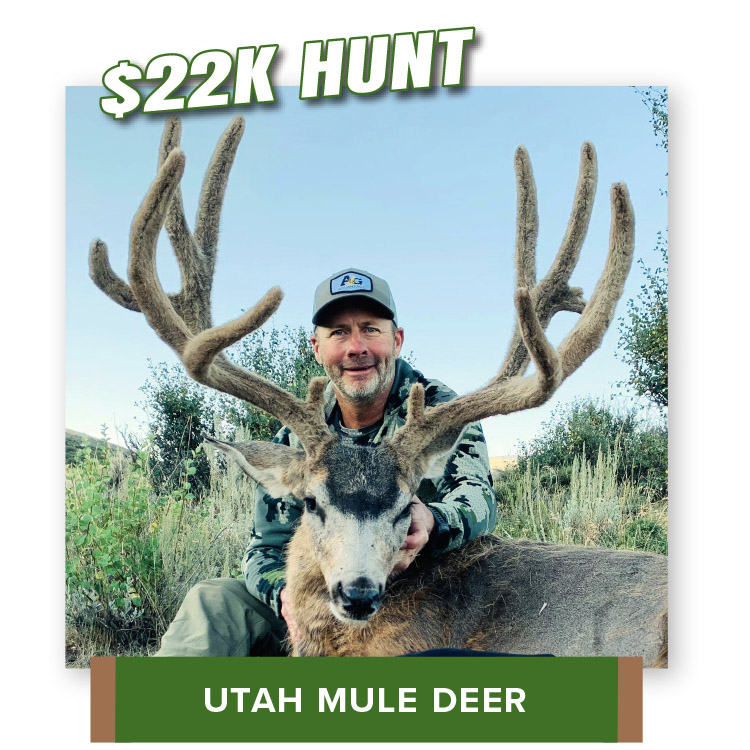 2024 Utah Mule Deer Hunt
Win this 5 day Utah Mule Deer hunt with Bucks and Bulls Outfitters Sept 1-5, 2024.
This is one of the very few ways to get a spot on this first-class, trophy Mule deer ranch, in northern Utah! We jumped at the chance to give this hunt away and booked it well in advance. The winner of this hunt has a legitimate opportunity to have a world-class hunt and harvest a real trophy Mule deer! Rifle hunting in early September, when the bucks are patterned and vulnerable, will make this hunt one of a kind! Past hunt winners have harvested their dream bucks! September rifle trophy Mule deer hunts are hard to find, so this is a rare opportunity.
2024/25 Sonora Mexico Coues Deer Hunt for 2 hunters
Win this Mexico Coues deer hunt for 2 hunters, December 2024- January 2025. Flexible dates
Cuco Del Cid, owner of Rancho Bonito Trophy Hunts has been managing and hunting great ranches south of the border for many years, taking some exceptional Coues deer bucks every year. The hunt winner of this hunt will be able to bring themselves and one other hunting companion on this 2×1 hunt for trophy bucks. Average bucks taken on these hunts in the past are 105-115" with past hunt winners taking multiple 115-120" bucks! This is a great opportunity to experience hunting Coues deer, on well managed private ranches, with very knowledgeable outfitter and guides.
2024/2025 Idaho Wolf Hunt for 2 hunters
Win this 5 day Idaho Wolf hunt with Heart X Outfitters
Hunter's Choice of dates in Nov 2024 through Feb 2025
This is a 5 day horseback hunt into the famed Frank Church Wilderness for you and a friend of your choice. It offers nearly 100% opportunity on big wolves with prime winter coats! We will cover the guide fees for both hunters as well as food, lodging, licenses and tags! Wolves are one of the most challenging North American big game species to hunt and this gives 2 lucky hunters a great opportunity for some big dogs! If you want to know more, listen to the Epic Outdoors podcast #142 on our website or on any podcast app.
Epic Gear Package
This package includes:
Fierce Firearms Twisted Rival 300 RUM Phantom/Tungsten
2024 Hoyt Compound Bow
Leica Geovid Pro 32
Zeiss V4 6-24×50 Riflescope
Vortex Razor UHD 18×56
Swarovski 95mm objective and ATX or STX spotting scope eyepiece
Save by Purchasing Ticket Packages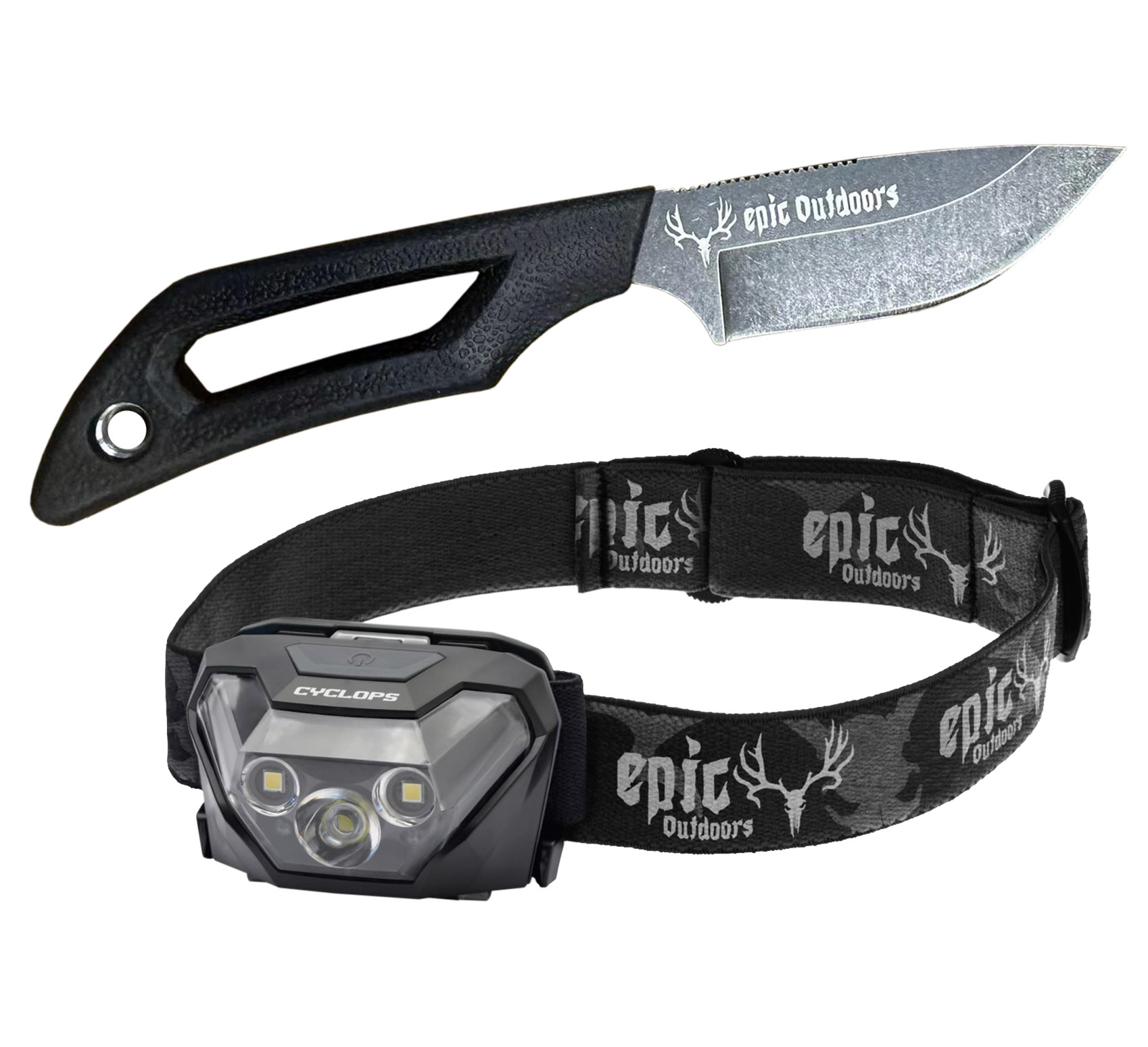 $200 Ticket Package Bonus Items

Purchase the 10 ticket package for $200 (a $50 savings) and get 10 tickets in your choice of the drawings and an Epic Outdoors knife or headlamp custom made by Outdoor Edge and Cyclops.
Knife Details: 
Versatile fixed blade knife platform with innovative rotating sheath system. Blades are finished in a durable non-reflective BlackStone coating. The polymer sheath features a quick release locking latch and removable 360-degree rotating clip to attach to a belt or MOLLE system.
SPECS
Drop-Point Blade: 2.5 in
Drop-Point Overall: 6.5 in
Steel: 8Cr13Mov stainless with Blackstone coating Rockwell-C
Hardness: 57
Handle: Full tang with rubberized TPR
Sheath: Polypropylene
Lanyard: Black 550 paracord Weight: 3.2 oz
Headlamp Details: 
This 500 Lumen headlamp features a powerful 5W LED as well as a Red LED for predawn movement. The 3 AAA batteries (included) power the high beam (82 yds) for 10 hours and 32 hours on low beam. The Red LED has a runtime of 49 hours. It also features a custom Epic Outdoors strap, a durable ABS housing, and an IPX6 Weather Resistance rating.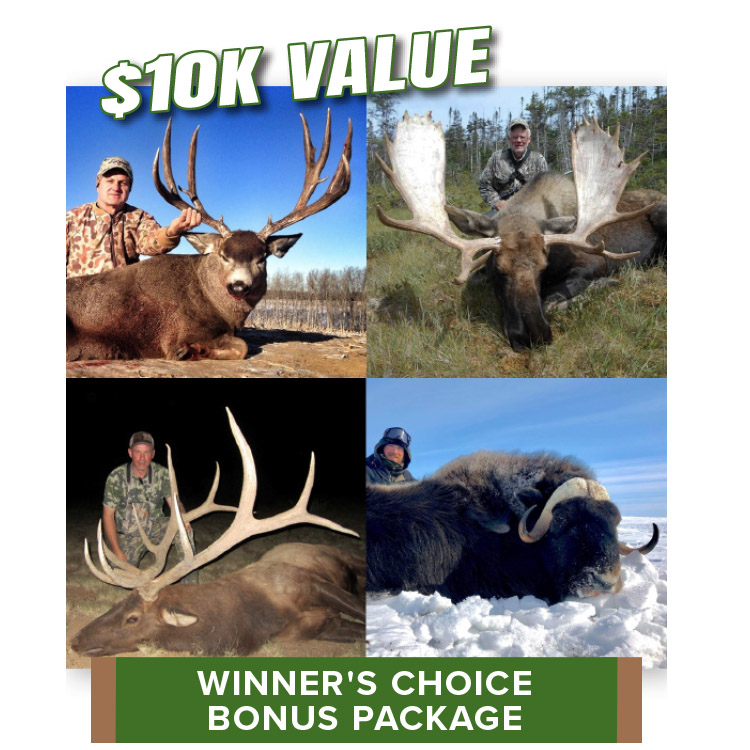 $500 Ticket Package Bonus
— The "Winner's Choice" Hunt
Purchase a 30 ticket option for $500 (a $250 savings) and get 30 tickets for your choice in the 7 giveaway packages. Also receive your choice of a custom knife or headlamp and 1 ticket (for each $500 you spend) for the bonus "Winner's Choice" hunt. Winner of the Bonus Hunt will get up to $10,000 toward their choice of hunts from one of our Epic Approved outfitted hunts or an outfitter of your choice. There are many quality hunts available. Photos shown, showcase some of the great hunts in this price range. The Epic Outdoors staff will help the winner book the perfect hunt for their wish list.
There is no way to buy individual tickets for the Winner's Choice hunt.